Posts in Cutting The Cord
As I realized that we'd hit the one-year mark since cutting the cord, I also realized that I'd failed miserably with my plan to provide a glimpse into our journey. Sorry.
Continue reading Cutting The Cord, One Year Later...
---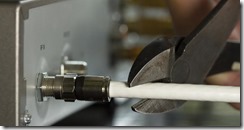 Today I called our internet, cable, and landline phone provider, Frontier, to "cut the cord." By now, most everyone has a general idea of what it means to cut the cord, though the specifics often vary from person to person. To us it meant getting rid of cable and our landline phone service. Over the next few weeks, I plan on writing a series of posts on our cord-cutting experience.
Continue reading We Cut The Cord!...
---
A quick update on our DIRECTV NOW experience…
We're doing our best to avoid using our cable boxes and use DTVN for any live TV, with okay results. The main issue we're running into is the same that everyone else using DTVN is running into—buffering and needing to reset the app. It's a pain. However, it also led me to hook up our HD antenna so that I could distribute it throughout the house, which has been a success. We no longer rely on DTVN or cable for anything local.
I'll write more on us testing the cord-cutting waters when I get a bit more time.
---
As each new cord cutting option comes online, I take a look, but aside from buying an HD antenna a couple of months ago, I've not taken this cord-cutting idea any further. Based on reviews, channel selection, and a very attractive introductory offer, I took the plunge and signed up for DIRECTV NOW, the cord-cutting offering from AT&T owned DirecTV, if only to be able to rule them out as a viable alternative. After a weekend with the service, here are some of my thoughts.
Continue reading DIRECTV NOW: My First Impression...
---