Posts in Project 18,253
Yesterday, Julie and I celebrated our first wedding anniversary. Actually, our celebration started the day before that, on Memorial Day, and continued on through yesterday.
After sleeping in a little bit on Monday, we headed to the gym for a short workout, but not before a quick shopping detour to find a couple of shirts to match the plaid shorts I picked up the day before. An hour and twenty minutes later, we were finally at the gym. While working out might not sound like much of a start to a celebration, if you've been following along here for any length of time, you know exercise is very important to both of us. Besides, we'd be eating at some fancy restaurant later that evening.
After the gym, it was back to the house to pack our bags, get a quick shower, and then head out for the real fun--a hotel party.
For those of you familiar with the area, we stayed in the new Hilton at the Southlake Town Square...in a corner suite...very nice. Upon our arrival, we had champagne and chocolate covered strawberries, which were very yummy.
After a quick look around the hotel (checking out the fitness room, and the pool), we ventured over to the hotel bar (inside of Copeland's restaurant) for a drink. The bar is called the 5° Bar, and features vodka and tequila on tap, chilled to 5°F. We each had a margarita on the rocks with Patron Silver and Grand Marnier. Very tasty. Next stop on the anniversary tour was Brio Tuscan Grill for a little snack a their patio bar, because the margaritas were that strong.
After some awesome margherita flatbread from Brio, and a couple of more drinks (mojito for me, and wine for Julie), we headed back to the hotel with enough time to hit the pool before needing to get ready for dinner.
The pool was nice and quiet, but there was no swim-up bar, no waiters and waitresses roaming around taking drink orders...nothing! Oh, wait--that was last year, in Mexico. The pool was nice and cool, and the sun was shining--perfectly relaxing.
After a little fiasco with the iron (it temporarily stained the shirt I brought to wear to dinner), we were off to Truluck's for dinner. This was the first time for both of us to dine at Truluck's, and it was absolutely wonderful!
We started off with "wine flights," as neither of us could settle on any one thing, and we hadn't decided what we'd be ordering for dinner. I had a Pinot wine flight, and Julie had a Chardonnay wine flight. I don't remember the specific wines, but they were all good.
As for the food, we shared the Sauteed Superlump Crabcake...one of the best I've ever had! Julie had the Grilled Gulf Red Snapper with their Ponchartrain sauce, and I had their Grilled Tenderloin Medallions, which came with "loaded" potato cakes--OMG! Finally, because we were there celebrating our anniversary (and shamelessly told the hostess as much) the waitress came out with a specially prepared small molten chocolate cake with fresh berries. Also very, very good.
After dinner we took a nice stroll around the Town Square, over to these fancy "brownstones" that they've built. We even stopped to chat with one of the owners who was out working in her garden (escaping the heat of the day?). The brownstones are very nice, and very big. The woman we spoke with said that they had over 3,000 sq. ft.
Yesterday morning, after sleeping in again, we enjoyed a leisurely breakfast in our room, another dip in the pool, and then it was time to pack up and head out.
But before heading home, we visited Brio for lunch, Central Market to restock on fruit and stuff, and then finally went home to eat the top layer of our wedding cake. (Which I'd been looking forward to ever since May 27th, 2007.) The cake did not disappoint. My mom did a great job of wrapping it up so that it would last a year in the freezer.
It's time for me to go get the boys, so I've got to wrap this up... We had an amazing anniversary! A quick thanks to friends and family for all of your support over the past year.
---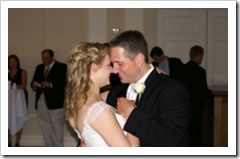 In case you were interested in how that whole Project 18,253 stuff is going, I thought I'd give you a little update--WE'RE MARRIED!
Julie and I got married on May 27th, at the historic YWCA in downtown Fort Worth. We then honeymooned in lovely Playa del Carmen, Mexico. The wedding ceremony was perfect and the reception was a blast. The honeymoon was probably the most relaxing vacation I've ever taken.
For those of you that don't know, we had an interfaith ceremony, featuring both a rabbi and a Methodist Minister. Our ceremony was written for us by the rabbi, and then tweaked a little bit by us and the minister, resulting in an inclusive ceremony which honored both Jewish and Methodist traditions.
I'll get some pictures up soon, I promise.
---
"YES, YES, OF COURSE!!!"

Details to follow.
---
Sunday evening, after talking to Julie's dad, I emailed her mother expressing a desire to speak with her as well. We finally caught up with each other yesterday.
The conversation went really well, important things were discussed, insight was provided (I'm not telling what or by whom ;-)), and a blessing was given.
I am very happy at how this has gone, and glad that talking to her parents about this is behind me -- I was sooo nervous!
Now, if I can just wait another 22 hours or so!
[Editor's Note:This post was kept private until after the proposal.]
---
When Julie and I first started discussing the future, she asked that before I propose I do one thing -- talk to her Dad. I assured her that I would, and that I planned to do this even if she hadn't asked.
I definitely wanted to talk to him in person, but because her parents live in Houston and we're in Fort Worth, I knew that might be difficult. The first time I thought about talking to him was when they came up the weekend of Mother's Day, but I wasn't ready to propose, and I didn't want him to be burdened with the secret for a month or more. My second opportunity came when we went down to their beach house for the 4th of July, but as you know from my earlier post, that place was packed, the opportunities for privacy were very limited, and again, I didn't want him to have to keep the secret for a month or more. This was still okay, as I had a plan.
I knew that I'd get another chance in August, when we headed down to Houston for Julie's high school reunion. Then, a couple of weeks ago, I found out that her Dad will not be in town that weekend! Not knowing when I'd get down there next, that pretty much ended my hope of talking to him in person. On to plan B.
I had his email address, but I didn't have any phone numbers. So I emailed him a short note saying that I had hoped to visit with him in person next weekend, but since he wouldn't be there, that I'd like to visit over the phone when it was convenient for him, and of course, I asked for a phone number. This was on Friday, right before taking Julie to the airport...I didn't get a reply until almost noon today...imagine how nervous I was with each hour that went by without a reply!
In the end, it worked just as I had hoped. He suggested that I call the house after the women left to go see The Lion King, which I did. We had a really good chat, and man was he prepared! Fortunately, so was I, and at the end of the call, we graciously gave his blessing.
Now the really tough wait begins. The countdown until Thursday!
[Editor's Note:This post was kept private until after the proposal.]
---
After selecting the ring yesterday, Mike told me to go by the store after 2 PM on Saturday (today) and ask for Van. So Jacob and I headed over to Southlake a little after noon, browsed the local Barnes and Noble until about 2:30, at wich time we headed over to Village Jewelers to see Van. He had it all ready to go. It's beautiful!
Jacob was very interested in what we were doing there, but I kept him distracted while I looked at the ring. I just didn't know if he could be trusted with this information for several days. As we were walking back to the car, I just couldn't contain myself, so I stopped and asked if he could keep a really, really, big secret for a week or so -- of course he said that he could, so I showed it to him. "Oooh that's pretty!" were his exact words. Then I had to explain to him what the ring was for. He gave me a huge hug. :-D
So now we're back at the house, and I am still working on talking to her Dad. I just hope I can wait until the day that I've planned to do this...the ring is burning a hole in my pocket, I am so excited!
[Editor's Note:This post was kept private until after the proposal.]
---
Julie is going to Houston this weekend to see "The Lion King" musical with her Mom, sister, and oldest nephew. I've been waiting for this weekend for quite a while, as it is the perfect chance for me to go back over to Village Jewelers and pick out the ring.
When we were at Village Jewelers a couple of weeks ago, we (she) picked out several different settings, with most falling into two categories, and any of them would have been a good choice. Then we saw THE ONE...it was one of the very last rings we looked at, and it was perfect. Not only did I think so, but I could tell by how her face lit up that she thought so too -- a simple solitaire in white gold. All that's left is to pick out the stone.
One issue to work through is that the boys are still with me through this weekend, and one or both will likely have to go with me. I am not sure that they can keep this secret!
Also, I've got to talk to her Dad. It's what she wants, and it is what I planned to do all along.
[Editor's Note:This post was kept private until after the proposal.]
---
Julie and I took a trip over to Village Jewelers today for a little browsing. We've been discussing things for quite some time, and the other day I asked her if she'd like to go look. At first she didn't want to (she wanted it to be a complete surprise), but later agreed.
We decided that she wasn't going to pick anything out, but that we'd look at different styles, and then I'd go back later, when the time was right, to make the final selection. Hmm...I wonder when that will be? All I know is that before I ask her, she wants me to ask her Dad -- which I was going to do anyway. :-D
[Editor's Note:This post was kept private until after the proposal.]
---