Archives for June 19, 2007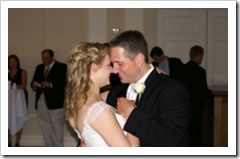 In case you were interested in how that whole Project 18,253 stuff is going, I thought I'd give you a little update--WE'RE MARRIED!
Julie and I got married on May 27th, at the historic YWCA in downtown Fort Worth. We then honeymooned in lovely Playa del Carmen, Mexico. The wedding ceremony was perfect and the reception was a blast. The honeymoon was probably the most relaxing vacation I've ever taken.
For those of you that don't know, we had an interfaith ceremony, featuring both a rabbi and a Methodist Minister. Our ceremony was written for us by the rabbi, and then tweaked a little bit by us and the minister, resulting in an inclusive ceremony which honored both Jewish and Methodist traditions.
I'll get some pictures up soon, I promise.
---