Posts in Family & Friends
Wow. It's been a while, huh? As I'm sure you know by now, Julie and I have been very busy with our little baby boy, Sam, along with traveling all star baseball and t-ball. I'm sorry for not posting anything here, but I'm sure you've seen all of the details on Facebook or elsewhere.
Continue reading Jacob Turns 10, Sam Turns 12 (weeks)...
---
Our oldest, Jacob, had the privilege of trying out for his baseball league's Summer All-Star Team back in early May. Now, Jacob enjoys playing baseball, but he'd be the first to tell you that it isn't his favorite sport. However, he's pretty good.
Continue reading All-Star Baseball...
---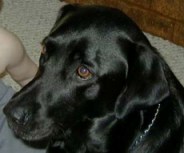 Three weeks ago yesterday, I took our dog, Molly, to her vet to have a small lump on the side of her head checked out. Two days later we learned that it was axial osteosarcoma, and that it was fairly advanced. Within days, the lump, which was now officially a tumor, had grown to the size of a tennis ball, and continued to grow over the next couple of weeks. Eventually the bad days started to outnumber the good days, and yesterday, Julie and I took Molly back to the vet.
Goodbye Molly. You were a great dog, and we will miss you.
---
Sometime last fall, Julie and I came across the InterfaithFamily.com website. At that time, in addition to all of the great articles, they also had a couple of blogs. As we were reading through the blogs, we noticed that they had a call out for anyone having an interfaith wedding in 2007, who would be interested in blogging about it. After talking it over for a while, we decided that blogging about our upcoming wedding would be something that we'd like to do, especially if it helped us and others work through some of the issues surrounding the planning of an interfaith wedding, and interfaith marriage.
So, we filled out their form, and awaited a reply. If memory serves, weeks went by without a word from them. Finally, we got an email asking if we were still interested, and would we be able to talk on the phone. After a few missed connections, and as it was starting to seem like this just wasn't going to happen, I sent them a copy of a story Julie and I wrote for our department's monthly newsletter (read Our Hanukkah Story), and reminded them that we were still very interested in blogging for them.
As luck would have it, after receiving the email, along with our story, they decided that they didn't need to talk to us first, that it would be okay for us to just start blogging...and blogging we have! You can read all about our upcoming interfaith wedding at the InterfaithFamily.com's Weddings Blog.
---
Hey family, I've finally updated Daneman.com so that you can have your own blog, photo album, and message board.
My new family blog is at Daneman.com/blogs/bryan. Enjoy.
---
This past weekend we celebrated Jacob's 6th birthday. My how time flies! If he's 6, then that means that I am coming up on 5 years with my current employer--yikes! That also means that it's been 5 years since I left Colorado. Wow...
Anyway, back to the birthday... The family all got together at Crystal's Pizza and Spaghetti for some pizza, arcade games, and cake. We used to go to Crystal's (different location) all the time growing up, and I thought it would be cool to have his party there. (It was fun, but not quite the same as when I went as a kid.) One of the more entertaining moments from the party was when those of us who ate part of the road (he had a "Cars" cake, which had a black icing road through the middle of it) realized just how black that icing really was.
---
Julie and I went to Mardi Gras in Mobile, AL. It was an absolute blast! Check out some of the pictures.
---
I had the boys for the week of Thanksgiving, and we had a great time. Thanksgiving Day was spent at my dad's house and then we dropped in on my mom's side of the family in the evening. The week ended with a trip to Krispy Kreme and a little hiking at the Fort Worth Nature Center.
---
I haven't posted in some time...let's see, March? Wow. Anyway, I guess that I've been pretty busy, though with what I am not sure. We did take a couple of days off back in early April to go camping at Inks Lake State Park with some friends (no kids).
I love camping, and had a lot of fun at Inks Lake. We hiked, canoed, hiked some more, stayed up late talking around the campfire, roasted marshmallows, toured a winery, saw a bald eagle, and just relaxed. I'll get some pictures up soon. I also went camping a couple of weeks later with Jacob. It was his first camping trip, so it was nothing fancy, just one night out with the same friends that went with us to Inks Lake (their kids were included this time as well). For this one night trip, we went to Lake Ray Roberts, just north of D/FW. No hiking, no canoeing, just hanging out, playing with the kids, and of course roasting marshmallows.
Other than the camping trips, it's pretty much been business as usual at both home and work. Oh, I nearly forgot, I bought a bbq smoker. Already my smoked briskets are a huge hit. I've even done a couple for a party at work, and now I have people asking to be notified of the smoking schedule so that they can bring me some meat to smoke. I'll get some pictures of it up soon.
---
On Monday I became an Uncle. I now have a beautiful niece named Eliana. She is more perfect than the most perfect niece I could've imagined. I think every dad should have a little girl. Hmmm...
---
It's hard to believe that a year has passed since we were blessed with Caleb's early arrival. Every day offers something new...sounds that are starting to sound like real words beyond mamma and dadda, different reactions and facial expressions, interest in something he'd previously been oblivious too...the list goes on. I can't wait to see what the next year brings. Kids...they take us on such a magical ride!
---
Caleb decided it was time to join us in the world at 9:52 PM, Wednesday, November 5th. Though he was born just over three weeks early, he is a healthy 7 lbs. 8.3 oz., and 19.25 inches long. Both mom and Caleb are doing very well.
---
Jacob
turned 3 a week and a half ago. We had a nice party with family and friends. This was the first party for him where he had a say in who was invited (kids from school). It seems like 3 or 4 of them showed up. We had a bounce house, hot dogs, and cake -- a good time all around. Thanks to everyone for helping celebrate Jacob's birthday, he had a blast!
---
I was home yesterday with Jacob (my almost 3 year-old son). He had to stay home because he had a fever when he was picked up from school on Wednesday (ok, it's really glorified daycare), and they have a policy that didn't allow him to come back until he had gone 24 hours without a fever (fyi: he was feeling ok by yesterday morning). Early afternoon comes around and it is time for his nap. I tell him "you can take a nap in your room, or you can take a nap in the living room, your choice." He responds with "living room, but I can't see the TV with my eyes shut." *smart ass*
---
I am not going to list all the things that I am thankful for this Thanksgiving, I know what they are, and they know who they are. So instead, I just want to wish you a very happy and safe Thanksgiving.
---
We survived our trip to Mexico. It was nice to get away for a few days. Though we missed Jacob, it was very relaxing to not concern ourselves with him for a week (thanks mom!). The resort was nice, but not great. We spent most of our time at the resort with just a trip into Playa Del Carmen for dinner and an all day excursion to the Mayan ruins at Chitzen Itza (pictures soon) taking us away from lazy beach/pool time. I doubt that we'll be heading back to Mexico anytime soon. There are just too many other places that we can visit that are of greater interest to us.
---
Over the weekend we moved out of the townhome in the city and into a house in the suburbs. Though I liked living close in to downtown, Jacob needed a yard, and we were all sick of the 2 flights of stairs that took us up and down the 3 levels of the townhome. The move was uneventful, as all moves should be. Now comes the fun part of unpacking and getting the new place like home.
---
Gidgit and I are celebrating our 4th Wedding Anniversary today. It's been 2 years since we actually celebrated. Last Sept. 12th, we were still in shock from the day before and in no mood to celebrate. This year, and in the years that follow, it will be different. We will celebrate the memory of those that perished on 9/11/01, and celebrate our health and togetherness. By the way, we are also celebrating with a little trip out of the country.
---
I've decided to take the long weekend off. No computing. This decision was made easier by the fact that I am 1) celebrating my 30th birthday today, and 2) I am about to head down to Austin to continue celebrating it through the weekend, and 3) Texas Longhorn football kicks off tomorrow night and I will be there. Have a great Labor Day weekend!
---
We took Jacob to the circus yesterday. He enjoyed it. We enjoyed it. I don't know if I would go again. Including tax and fees, our tickets were over $25 each. Parking $6. The worst food I've ever had at an event like this - $14 (3 little corn dogs, a soggy pretzel, and 2 regular drinks). We also had fries, but I took those back when we realized that they were all mushy. Did I mention the cotton candy that cost $10? Oh yeah, you get a goofy little hat with it. The cost of items once you got inside were simply insane. In addition to the expensive cotton candy, they wanted $6 for a sno-cone. I won't even go into the toys which started at around $6 for little trinkets and went up from there. The greatest show on earth might also be the biggest rip-off on earth. At least the elephants were good.
---
What a weekend! It was non-stop action from the time I left work, until I went to bed last night. Jacob turned two on Saturday, and we had a big birthday party cookout for him over at my in-laws. Everything went real well, and a fun time was had by all. Thanks to all those who came on Saturday, and to everyone who helped put it together.
Jacob
really enjoyed it.
---
Jacob's website
received a facelift recently. I
originally
designed his site while in the hospital after his birth (don't worry, mom and baby were sleeping). It was definitely time for a fresh "kid friendly" look. I think I accomplished my goal. I also wanted to begin using
metaBlog
, the weblog application that I am building. For those of you looking for content from the old site, it is still
available
, though I will be moving the content into the new site soon.
---
Happy Father's Day to all the fathers out there.
---
What do you do when your kid won't sleep by himself? We've tried ignoring him, but you can only take so much crying. I need sle...zzz...zzz...zzz...zzz...zzz...zzz
---
Hmmm, what to say, what to say....well, we moved out of the apartment and into our new home! Very exciting for us. We love it, and are so glad to be out of the apartment.
Jacob is changing every day. He now has 6 teeth that are either in or have broken through. He crawls, he pulls up on things, he basically has a grand time.
Got to run. See ya!
---