Loaded Oats
by Bryan on 11/18/2010 at 6:44 PM in Eats and Drinks
---
I was recently craving oatmeal raisin cookies, which happen to be my favorite cookies in the whole world. After trying to ignore the craving for a week or two, I finally caved, and ventured to the store to get the missing ingredients. In addition to buying the missing ingredients, I also came across 100% whole wheat flour, which I've never used, so I bought some.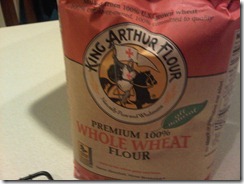 I have a handful of recipes that I use for oatmeal raisin cookies, depending on my mood. There's the recipe from my great-grandmother, the recipe from my very first cookbook (I must've made that one a million times!), and then there's the old stand-by recipe that's typically on the oats container—I chose the last one.
For those of you who know my cooking style, I like to take recipes and make them my own, and this time was no different. I substituted the 100% whole wheat flour for all of the all-purpose flour, added an extra cup of oats, added raisins (recipe didn't call for any), used milk instead of water, added ground cinnamon and ground cloves, and used butter instead of shortening. I pretty much kept everything else the same.
Here's the recipe, or at least as close as I can recall:
Loaded Oats: Oatmeal Raisin Spice Cookies
1 cup packed brown sugar (I used dark brown sugar)
1/2 cup Sugar
3/4 cup unsalted butter (softened)
1/4 cup milk (I used 1%)
1 egg
1 teaspoon vanilla extract
1 cup 100% whole wheat flour
1/2 teaspoon baking soda
1 1/2 cups raisins
Ground cinnamon (to taste)
Ground cloves (to taste)
Honey (just a kiss)
1/2 teaspoon Salt (optional)
Preheat oven to 350°F. Lightly grease cookie sheet (I used a Silpat instead). Beat sugars, butter, milk, egg, and vanilla until creamy. In another bowl combine oats, flour, baking soda, and salt (optional). Add to butter mixture; mix well. Add raisins, cinnamon, cloves, and a kiss (to taste) of honey to mixture; mix well. Drop rounded teaspoons (I used a tablespoon) onto prepared cookie sheet. Bake 12 minutes or until light golden brown. Let stand 1 minute before removing to racks to cool.
(Using teaspoon sized drops it should make 6 dozen. Using tablespoon sized drops I got just over 3 dozen. Your results will vary depending on how much dough you eat).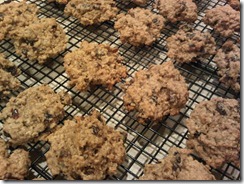 That's it. This recipe turned out some of the best oatmeal raisin spice cookies I've ever eaten. Soft and chewy, just how I like them!
---