My Return to 5K Racing
---
Like most adult-onset runners, I got my start running in 5K fun runs, and between late 2007 and early 2010 I ran in quite a few 5Ks. However, I've not run a 5K since April 2010 when I ran the inaugural (and only) America's Run 5K. As I mentioned in my last post, I've decided to start racing more often, and with a busy family life, that means shorter races, like 5Ks and 10Ks. To that end, I actually went out and signed myself up for an honest to goodness 5K race! Oh, and it's this weekend!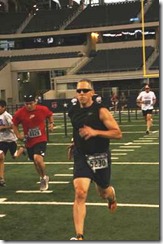 While perusing the various running websites that list local races, trying to decide which race offered the best combination of easier course, reasonable start time (not too early and not too late—must beat the heat, after all), convenient parking, not too many people (I know I won't be setting an all time PR here, but a guy can still dream about a top 3 Age Group finish, right?), and decent SWAG, I came across the Heroes for Hope 5K, which has a couple of things going for it—first, it benefits St. Jude Children's Research Hospital (and Bow Dazzling), and with four kids of my own, I'm all for anything benefiting children, and second, it starts and finishes at Martin House Brewing Company, with BBQ and beer. No brainer.
As I said, I have no grand expectations of setting a new all-time PR at this race. After all, I've only been running consistently for about the past 6 weeks, with very little speed work. Also, it's summer. However, I will be racing in a new age group for the first time, so as long as I finish, I will have a new age group PR. While I want to post a respectable time, I also don't want to make this age group PR too hard to break. Right?
---