Archives for March 2008
It's official--I've registered for the San Antonio Rock 'n' Roll Half-Marathon. It is on Sunday, November 16th, so I've got several months to get ready. My plan is to continue my current program, which will take me to the end of May, and then I'll either repeat the last several weeks of it or another program before beginning an official 16-week half-marathon training program in July.
Wish me luck!
---
Today was my weekly long run, and the final run for March. In the month of March, I ran a total of 93.15 miles, which is an all-time high for me by 20 miles. Today's long run was also a new high at 8 miles.
Today also marks the end of week 1 of my new training program. The current program is one that I generated from the Runner's World Smart Coach, and will last for 8 weeks. Here are the parameters I provided to generate the program:
Recent Race Time: 27:30 for a 5K (this was my Garmin time for the Bunny Boogie).
Training for a 5K.
Currently train 21-25 miles per week.
I want to train at a moderate level.
Long run day = Sunday.
Schedule length = 8 weeks.
Starting week = Monday, 3/24/2008
The first week went pretty well. There are a few differences between this program and the one I just finished (Hal Higdon's Intermediate 5K):
Easy runs are 4 or 5 miles.
Interval workouts alternate between 800m and 1600m intervals (different days, of course)
Tempo runs are quite a bit longer.
I have prescribed paces for each run (paces get quicker in the 2nd 4 weeks).

Easy run pace is 11:04
800m @ 4:14
Tempo @ 9:28
1600m @ 8:56

With this program, my longest long run will be 10 miles.
So maybe I'll top 100 miles in April, who knows? What I do know is that Spring is here, and in Texas, that means that Summer is practically a week away--at least that's how it felt today. Nothing like a long run in really warm weather, with high humidity and a lot of wind! For the record, I completed my 8 miles in 1:35:59, which was well off my prescribed pace of 11:04/mile, but aren't I supposed to slow down so many seconds or minutes per mile for every 5 or 10 degrees above 50 degrees?
---
Julie and I ran the Bunny Boogie 5K this morning at Trinity Park in Fort Worth. It was an absolutely great morning for racing, with the temperature in the low 50s, and lots of sunshine.
After eating Tex-Mex last night, along with a couple of margaritas and a glass of wine, I was uncertain of how the race would go today, and waking up with my stomach gurgling was not a great sign. Fortunately things subsided, and we headed out to the race.
I knew from looking at past results that this would be a very small race (100-150 people tops), but that's just what I was looking for, and we were both excited to not have to deal with the massive crowds of walkers bunched up at the starting lines of most of the really big 5Ks. Once we arrived, we grabbed our bibs, pinned them on, checked out the course map, and then warmed-up. As it was nearing the start-time, we caught up with our coworker, Darren, and his 7-year old son, Aidan, who was running his 2nd 5K. After a few words from the race director, we were off.
We started a little ways back from the starting line, not wanting to push our luck and get passed by too many people, which ultimately cost us a little time, but not too much. As is typical, I think everyone started off a little faster than they wanted to. At one point, I looked down at my Garmin and saw a sub 8:00/mile pace—definitely too fast! Within a couple of minutes I had brought the pace back up to a more manageable 8:45-9:00/mile, and was able to maintain that for most of the way.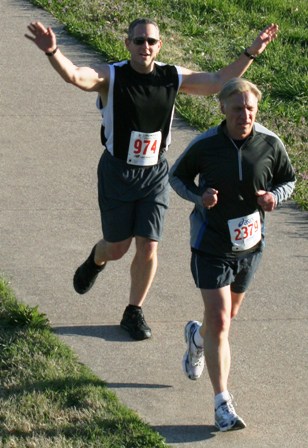 The plan for today's race was to go for a new PR, and I set a pace in the Garmin of 28:30, which would've been a new PR by 15 seconds. However, I found myself feeling pretty strong and pacing behind a guy at around 8:50-9:10, so I let myself stay slightly ahead of my goal pace for a little while. After several minutes, my "rabbit" slowed considerably, so I surged on ahead in search of a new rabbit. Luckily for me, he was just 20 yards ahead. I followed my new rabbit for the majority of the race, until he finally picked up the pace in the last half mile, and left me eating his dust. But that was okay, as I had been holding steady to an 8:55/mile pace and was still feeling good—just not good enough to stay with him as he upped his tempo. The good news is that I wasn't passed by anyone in the last half of the race or more, and I was able to pass several people, including a couple towards the end. And unlike the Cowtown 5K, I did not try to kick too soon. This time, I focused on maintaining my pace right up until the final .11 mile, and then surged with a controlled and maintainable (at least for a couple of minutes) pace of 7:43/mile.
At the finish, my Garmin reported a time of 27:30, so I will call that my chip time, since this race didn't utilize timing chips. My official time was 27:45, good for 2nd place in my age group (35-39), and a new PR by 1 minute!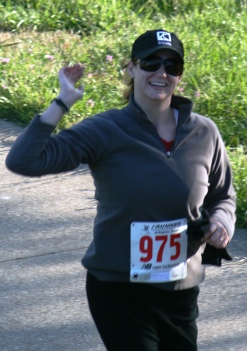 After finishing, I walked back up the course a little ways to cheer on everyone else, including Aidan, Julie, and Darren. Aidan was the next of our group to finish, with a time of 31:16, which was good for 1st place in his age group! Then came Julie, a few seconds behind Aidan, finishing 3rd in her age group, and finally Darren, who did a magnificent job setting the early tempo for Aidan.
All in all, this was fun day, and something I think we'd like to do again—this race, as well as more small races! I should have some pictures of Julie and me with our medals to post a little later.
Here are my splits from the Garmin:
| | | | |
| --- | --- | --- | --- |
| Mile | Time | Avg HR | Avg Pace |
| 1 | 8:54.98 | 169 | 8:54 |
| 2 | 8:53.75 | 182 | 8:53 |
| 3 | 8:51.73 | 186 | 8:51 |
| .11 | 0:46.69 | 190 | 7:43 |
| Total | 27:30.15 | 179 | 8:51 |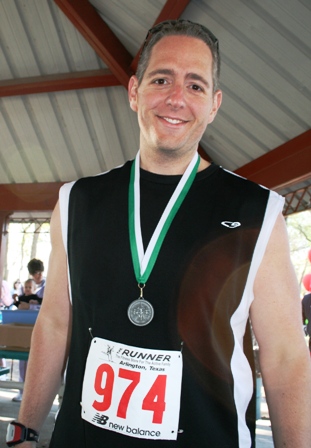 Here are the official results: Bunny Boogie 5K 2008. Looks like I need to email the RD and let him know he's got a 35 year old female in the 25-29 year old age group. Julie really did finish 3rd in her group.
---
Since I am in the mode of posting about races we've registered for, I thought I'd mention that we are also registered for the Fort Worth Zoo Run Run, on April 19th. This year, proceeds from the Zoo Run Run benefit all 25 of the Zoo's frog species in honor of the Association of Zoos and Aquariums' Year of the Frog.
Looking at the elevation of the course (assuming no change to the course from previous years), I think it will be pretty challenging, but what the heck, it's a good cause, and we'll be getting a cool t-shirt!
Well, I think it's about time for our 3rd yoga class, so I should probably wrap this up and shut the laptop down.
---
We finally registered for this Saturday's Bunny Boogie 5K Run/Walk. Saturday will be the final day of my current training program, Hal Higdon's 5-K Training: Intermediate, and for my final run, I am supposed to do what else, but a 5K race.
I also raced at the end of week 4, in the Cowtown 5K. My time in that race was 28:45, and I am hoping to be faster than that on Saturday. I think I will be, but you never know. The Bunny Boogie is a relatively flat, out-and-back, but it is not chip-timed, so I am at the mercy of getting a good start, close to the front, and someone at the end catching my number at the right time, or something like that. I guess I can always use my Garmin for my official results.
One thing that will be interesting is the size of this race. Previously, we've done big charity runs, or a 5K associated with a much larger race (like the Cowtown Marathon), where there's a couple to several thousand runners/walkers or more. The size will certainly help get closer to the starting line, however it also lends to a little bit more nervousness--I don't want to finish last, after all.
---
Well, here I am in the final week of Hal Higdon's 5-K Training: Intermediate, and it's past time to start looking for my next training program. If you've followed along here, you know that I've done the following programs:
All three programs have been pretty much perfectly suited for where I was at the time—even the Couch-to-5K, which I initially thought of jumping in at week 5 or 6, when I first saw it. Fortunately, I started at the beginning and began building my base the right way. Hal Higdon's 10K program also came along at the right time, as it allowed me to continue building my foundation and extending my runs all the way up to a 10K (obviously). Once I finished the 10K program, I began looking for something to take my running to the next level, and Hal's 5K program seemed like the perfect fit. Not only have my miles continued to ramp up (over 20 per week and 7 per long run), but was also introduced to a couple of different speed workouts—tempo runs and intervals, as Hal's 5K Intermediate program is geared toward improving your 5K time.
So now what? Of course, I'd like to continue increasing my speed—I am by no means fast, and I might not ever be, but surely I can go faster. Losing weight has certainly helped with that so far, but that won't last forever. I'd also like to continue increasing my mileage and run a half-marathon by the end of this year, while continuing to run 5Ks, and perhaps even a 10K or two (my next 10K race will be my first). The half that I am considering is the inaugural Rock 'n' Roll San Antonio, in November. Do I start a half-marathon program now? Do I continue on my current plan until I get within 12-14 weeks of the half and then switch to a half training program? Something else?
One other note: as I am nearing my initial goal weight of 185, it is time to think about whether that is the right weight or not. There will definitely be some more to lose, and some toning to be done, but what's the right number? My suspicion is that somewhere between 170 and 180 is going to be the right number, and fairly hard to achieve—not that the last 4 months and 35 lbs. have been easy. Time will tell, and I am sure that I'll know it when it's right.
---
This has been a tough week, beginning on March 9th when our youngest had his tonsils removed. His recovery proved challenging, and included a 9 hour visit to the local urgent care facility, and then an ambulance ride downtown to the local children's hospital between Tuesday night and Wednesday morning. We finally headed home at 6 AM Wednesday morning. Needless to say, Julie and I, and the little one were pretty wiped out. So I made Wednesday my rest day, and picked up with my training plan on Thursday.
On Thursday, we had our second yoga session scheduled, and for some reason I decided that I also needed to run through a more traditional strength training routine prior to yoga class. After lifting weights, and after yoga, it was time for my running--Wednesday's run, to be specific--8 x 1/4 mile intervals with 2 minutes of active recovery, along with a 1 mile warm-up and cool-down. Talk about packing in the fitness! And this was all between 5:20 PM and 10 PM Thursday night.
Friday, which is my usual rest day, rolls around, but this time I need to get in a 3 mile recovery run, which I finally do around 7:30 PM. It went okay, as I covered the 3 miles at a nice leisurely pace, taking somewhere between 34 and 35 minutes to complete the route, with an average heart rate of 145 bpm--which is pretty good for me.
Saturday morning found us all catching up on sleep, as we slept until 11 AM. By early afternoon, I was heading out for my scheduled Saturday run, which was 5 miles, fast. It was warm and sunny, and more than a little windy, but what the heck, I just run 4 miles, fast two weeks earlier in 38:45, so I figured that I could easily do 5 in under 50 minutes, and probably under 48 minutes. Boy was I wrong! After starting off a little fast (goal for the first mile was 10 minutes), at 9:23 and 9:16 for my first two miles, I really started to fade halfway through mile 3, with my heart rate up to 188. Instead of continuing to push the pace, and risk not finishing, I did something that I haven't done in months--take a walk break. Through the rest of the run, I took more than 9 walk breaks, typically 30 seconds in length, for a total walking time of 4:36. By the time I hit 5 miles, 50:25 had elapsed and for the first time ever, I had lost to my Garmin Forerunner 305's Virtual Training Partner. Still, I was actually satisfied with my time, given the week and given the weather. I was also very glad that I had listened to my body and allowed myself to walk. I seriously doubt that I would've made it through the 5 miles if I had kept running.
As Today rolled around, and it was nearing time to go out for my long run, there was more than a little doubt lingering from the day before. Today's run was a scheduled 7-miler, which I had only ever done once before, and that was just the previous Sunday. Nonetheless, I set out a little before noon, with the goal of taking it easy at 12:00/mile. In the end, I did just that, averaging 11:57/mile, which was 4 seconds per mile faster than last Sunday's 7-mile run, However, my average heart rate was 161 bpm, compared to 155 bpm the previous week.
I think it's pretty obvious that I pushed my body a little harder than I should have over the last 4 days. While I ate well, I didn't get enough sleep leading up to the 4 days in a row of running, including 2 hard training days, and over the last two days, it started to show. Fortunately, Monday is rest or stretch/strengthen (I'll be doing the latter), as long as it doesn't involve the legs. I am looking forward to it.
One more note: This coming week is week 8 of Hal Higdon's 5K Intermediate Training Program, which means this coming Saturday will be a 5K race. I've not signed up for anything, but we were planning on doing the Bunny Boogie 5K Run/Walk.
---
It's been a pretty busy week here, between off-site work meetings, training, and tonsils coming out (C's, not mine). I am glad that it's finally Friday!
I've been using Mondays as a dedicated strength training day, but we spent all of Monday at an off-site management "retreat," followed by dinner at Reata. I ate and drank way too much, so by the time we got home, I just wanted to go to bed. Fortunately, Tuesday was only a half-day of meetings, followed by a group activity, which was over between 3 and 4 PM, so I headed to the gym to get in some full-body strength training, and followed that up with a 3 mile run around the neighborhood with Julie—in my new shoes.
Wednesday, it was back to the office, playing "catch up." J had his first dentist appointment in quite some time, and ended up with his first two cavities :-(. Time to double-check his brushing, and perhaps start flossing. Wednesday evening I was able to get in my tempo run, and boy was it a good one. I set off on a new route that we've been using, but instead of following it all the way around, I veered off in another neighborhood, looking for hike and bike trails that might connect up with our neighborhood. Without the Garmin 305 to keep track of things, I'd never be able to do this. While I didn't find any connector trails, I did find dead ends that looked like they will eventually be connector trails, and I was able to keep moving at a decent clip.
Yesterday we were supposed to have our second Yoga session, but due to inclement weather, we canceled. We received nearly six inches of snow yesterday afternoon and a lot of rain and sleet prior to that—very unusual for the Dallas/Fort Worth area, especially in March. At first, I thought about getting in my 3 mile recovery run outside, but it was such a mess that I braved the roads and drove to the gym, where I hit the treadmill for 3 miles, and then did another full-body strength workout. As much as I am enjoying running, I've realized that it's really important for me to keep up with my strength training, especially now that I am nearing my goal weight and the muscle definition is really standing out. Not to mention, I enjoy lifting weights, and a stronger me can only mean better runs, right?
Here are some of my stats for the week (Tues/Wed/Thurs):
Tuesday (strength and 3 mile easy run):
1.23 mile warm up on treadmill in 13:00
50 minutes of strength training—full body
3 miles in 34:39, avg HR @ 155 bpm
Wednesday (40 minute tempo run):
10 minutes easy (.87 mile, 11:30/mile pace, 133 bpm)
20 minutes fast (2.14 miles, 9:21/mile pace, 168 bpm)
10 minutes easy (.74 mile, 13:25/mile pace, 143 bpm)
Thursday (strength and 3 mile easy run):
3 miles on treadmill in 32:10, avg HR 148 bpm
50 minutes of strength training—full body
By the way, the new shoes are doing great.
---
Some friends of ours were moving into their very first house yesterday morning, and we'd volunteered to help, since they are good friends and have helped us with lots of stuff. So anyway, knowing that I'd probably be tired from helping them move, I decided to try my hand at getting up way too early and running. My scheduled run called for 4 fast miles, so I figured that I needed to allow 50 minutes for my run, including warm up and cool down. We needed to be in southwest Fort Worth by 8 AM, which meant leaving no later than 7:30 AM, so I set my alarm for 4:40 AM. And what do you know? I actually got up when my alarm went off and was out the door by 5:30 AM! I couldn't believe it. It turned out to be a pretty good run. I set out with a goal of 10 min./mile (I know, I know—I'm slow). My final time was 38:46. Here are the splits:
9:45.60 - HR @ 158 bpm
9:26.63 - HR @ 170 bpm
9:53.39 - HR @ 176 bpm
9:40.61 - HR @ 180 bpm
Averages: 9:41 min/mile pace - HR 171 bpm
Here's the link of my run at motionbased.com: http://trail.motionbased.com/trail/activity/5068862.
This morning (much later than yesterday morning), I went out for my weekly long run. The schedule called for 6 miles, so I headed over to a nearby greenbelt/park, where I knew I could do 3 miles out and back. Now, at this stage of my program, this is supposed to be a long, slow run. For me, it was long, and it was definitely slow, but at an average of 161 bpm, my heart rate was much higher than it should've been. My pace goal was 11:30 min./mile, which is appropriate according to the pace calculator at McMillan Running. However, I probably should've taken into account the temperature and humidity, as well as the 20 mph winds, and slowed down some. Here are my splits:
| | | | |
| --- | --- | --- | --- |
| Mile | Time | Avg HR | Cal |
| 1 | 11:24 | 146 | 154 |
| 2 | 11:30 | 154 | 157 |
| 3 | 11:29 | 160 | 161 |
| 4 | 11:28 | 164 | 159 |
| 5 | 11:20 | 169 | 160 |
| 6 | 11:23 | 175 | 160 |
Interestingly, except for when I was heading straight into the wind, I felt pretty good—especially in the last two miles.
So this marks the end of Week 5 of Hal Higdon's Intermediate 5K program, and my second 10 mile weekend. This past week also concluded my first 70+ mile month, and my first-ever Yoga session. This coming week, my mileage should continue to climb, as my weekend miles go up—5 miles on Saturday, and 7 miles on Sunday (which will be a new record long run for me). We've also got our second Yoga session (substituting this for strength and stretching).
---