Archives for February 2008
I just ordered some new running shoes. I've got no complaints about my current shoes, so  I went with the same model, but a different color--black. This is my first time ordering shoes online, so I've got my fingers crossed.
Given this recent article from the NY Times, I feel a little guilty for not going down to my local running shop, but I was able to save about $20 by buying them online, compared to what I would've paid locally. For the record, I ordered from NBWebExpress.com. Any experience with them?
My new shoes: New Balance MR858BK
---
With one more day of running in February, I am on pace for 70+ miles for the month. This will be a first for me. My previous high was 58 miles in January. So far, my body is holding up.
Reflecting on my time for the Cowtown 5K on Saturday (28:45), I wonder how much improvement I can expect in my next 5K, which is in 3.5 weeks, at the end of Week 8 of Hal Higdon's 5K Intermediate training program? I improved from the Jingle Bell Run to the Cowtown by about 2.5 minutes. Surely, I won't see the same improvement with only 4 weeks between races this time. Besides, since the Jingle Bell Run, I am also 25+ lbs. lighter, and have really ramped up my training compared to what I was doing prior to the Jingle Bell Run.
What is a reasonable expectation?
---
Well, we did it—we got our butts up out of bed and hauled them to Sundance Square to run the Cowtown 5K this morning (in the freezing cold, mind you—average temperature for the 5K was 36.5°F). I was shooting for a sub-30 minute time, which would beat my previous (and only) 5K by over a minute. In the end, I ended up running it in 28:44.7, which was good for 472 overall, 329 among men, and 44 in my age group. Not bad for my second effort, and it definitely looks like the training is paying off! Here are some links:
One last note—I cracked 200 lbs. this morning, weighing in at 199! That puts me 14 from my goal of 185.
---
Julie and I are running in the Cowtown 5K tomorrow. At 8:15 AM, the gun will go off for the start of the Cowtown 5K, which is one of 6 races that makes up the overall Cowtown Marathon event. For me, this is my test race at the mid-point of Hal Higdon's 5K Intermediate Training Program.
Earlier this afternoon, we went over to the Expo to check things out and get our timing chips. It was our first time at a marathon expo. I also picked up a lightweight New Balance running jacket for 50% off. Not bad, huh?
To help get in the mood for this weekend, we went to see the encore showing of Spirit of the Marathon last night. We both really, really enjoyed it. It was funny, it was intense, it was emotional, but most of all it was good!
For a while, I've suspected that I might have caught the bug, after watching the film last night, I know I've caught the bug. The plan is to see how things go between now and the end of June, and then if things are still going well (I'm still running), then I am going to pick a half-marathon in the fall. If that goes well, then I will target something bigger for 2009. Any suggestions?
Well, it is time for bed...wish us luck!
---
What is "handheld hydration," you ask? It's a water bottle, dummy! Actually, in running circles, it is more than just a water bottle—it's a water bottle with some sort of sleeve or strap around it, for your hand to fit through. This allows a runner to carry the water bottle in their hand, without having to hold on to it.
As the distance on my long runs has increased I've found myself wishing that I had some water towards the end of my runs. In the last couple of weeks, I started taking a small Gatorade bottle with me on my long runs, but I would get tired of having to hold it throughout the run. So on Sunday, before going out for 6 miles, I stopped by our local Luke's Locker to pick up a handheld hydration system—the Quickdraw Plus, from Nathan Sports.
Overall, it was pretty good to run with. The Quickdraw Plus has a zippered pocket for storing small items (like my car key), an adjustable, and a reflective strap for a customized fit. The one downside was that my hand got pretty cold holding it for the first half of the run, as I had ice in the bottle, and had put it in the freezer for a while before my run. To help combat this, I switched hands often during the first mile, and then switched once per mile during the the rest of the run.
Have you used a hydration system while running? If so, what kind?
---
Just a couple of quick items:
Comments are enabled, though I am not finished mucking around with them.
My Recent Runs - I've added a new page at the ol' site—My Recent Runs. It lists information about my 10 most recent runs (runs where I used my Forerunner 305). The data is pulled from MotionBased.com, and includes links to more details at Motionbased, as well as to Google Maps and Google Earth.
---
I know that I recently posted about feeling beat-down, worn out, or whatever you want to call it. Today I feel good. Saturday I felt good. Yesterday I felt really good. So what happened? I don't know—perhaps it was just a matter of getting a day off to recover. Whatever it was, I am not going to complain. After all, I just completed a 10 mile weekend, and my first 20+ mile week. And I don't feel like I simply survived, I feel like a thrived.
Continue reading My First 20 Mile Week...
---
You know that feeling you get after you've been training hard? You know, that beat-down feeling? Well, I've got it. I just feel worn out today. This week has just taken its toll (and I've still got two days of training left—4 miles tomorrow, and 6 on Sunday):
Sat: 3 mile fast run
Sun: 5 mile long run
Mon: Intense upper body strength training
Tues: 3 mile run
Wed: 6 x 1/4 Intervals (1/4 recovery, 1 mile warm up, 1 mile cool down)
Thurs: 3 mile run
It's no wonder I am feeling so lethargic today. Good thing today is a rest day!
In addition to all of this work, we also had the Tequila and Salsa Party Saturday night, which meant too much to drink, too much to eat, and staying up too late. Of course, it was a great time, and I wouldn't have missed it (especially since it was at our house)! But its effects have lingered on throughout this week, I think, as I only lost .5 lb since last Friday. And honestly, I haven't eaten horribly, or even bad. Perhaps this is my first real plateau?
As for Hal Higdon's 5K Intermediate Training Program, I will give it another week, and see how I feel. It is a lot of work, and while I didn't expect that it would be easy, I am wondering if it's a little too much right now.
---
Since word of it first spread, and since seeing a demo of it while I was in Redmond back in October, I've been very excited about the ASP.NET MVC Framework. And since its initial CPT release, I've been messing around with the ASP.NET MVC Framework quite a bit. Though I did have some trouble (like getting it to run in IIS7 on Vista—never got it working, even with help from Phil Haack), I really like what I've seen, and can't wait to begin using it in production. Now, it looks like it will soon be one step closer  to being production-ready.
In a few weeks, there will be an ASP.NET MVC Mix Preview Release, which will address a number of this, as discussed by Scott Guthrie in his blog post titled ASP.NET MVC Framework Road-Map Update. Of all the goodness that he mentions, one thing stood out:
We have also factored out the URL routing infrastructure from the rest of the MVC framework with this preview, which enables us to use it for other non-MVC features in ASP.NET (including ASP.NET Dynamic Data and ASP.NET Web Forms).
As someone who uses URL Rewriting quite extensively, this is great news! I can't wait to see what I can do with the URL routing infrastructure and my existing Web Forms based applications.
---
Another week of the Hal Higdon Intermediate 5K Training Program has come to an end. Week 2 was a pretty decent week, and I got to add another type of run to my training—the tempo run.
The week started of easy enough with upper body weight training on Monday. There's nothing special about this workout, just 40 minutes of weight lifting, doing chest, back, shoulders, triceps and biceps in 35-40 minutes. In the training program, Monday's are marked as rest days, but I like to use them to get in weight training, so that I am not doing my runs and weight training on both Tuesday and Thursday.
Continue reading HH5K:Intermediate - Week 2 Wrap Up...
---
Okay, so I am out on my run last night (Week 2, Day 4 of Hal Higdon's Intermediate 5K Training Program), and I'm about 1/3 of the way into the last mile, I've just crested a little hill and I'm picking up speed to cruise on down the hill, when all of a sudden my left foot catches on some uneven sidewalk.
Continue reading Face Plant...
---
It's late...we've got a busy Saturday...I really should be getting to bed, rather than writing this blog post. But I've just got to get this salsa recipe out of my head and stored somewhere a little more permanent.
Roasted Tomato and Tomatillo Salsa
6 Roasted tomatillos
2 Roasted roma tomatoes
1 28 oz. can of Muir Glen Fire Roasted Tomatoes
1 Roasted Poblano pepper
1 ancho chile pepper
1 habanero pepper
1/2 shallot (minced)
1 bunch cilantro
a few cloves of roasted garlic
salt
white vinegar
Maybe someday I'll come back and tell you how I took all of these ingredients and turned them into this salsa: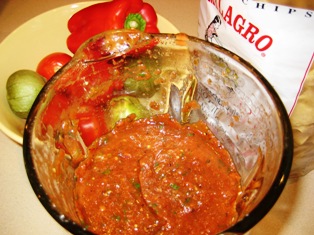 ---