Archives for January 2008
Holy cow...wait, I mean HOLY COW!!! I knew that the interval workouts would be challenging, but this was something else! Here's the link to all of the data that was captured by my Garmin Forerunner 305: http://trail.motionbased.com/trail/activity/4881885.
The workout (laps) went like this:
1 mile warm up.
5 Run/Walk Intervals (laps 2–12)

Run .25 mile (supposed to target my 1600m or 1 mile pace).
Walk .25 mile.

1 mile cool down.
The warm up and cool down were targeted to zone 3 for heart rate, which is 130–148 bpm. The run intervals actually were targeted to 5–7 min/mile—just a little too fast, I'd say.
I am glad that Intervals are only every other week (alternates with tempo runs)!
Here's my new workout program: 5-K Training: Intermediate. This was day 3 of week 1.
---
My new training program, Hal Higdon's 5K Intermediate, calls for 2 5K races as part of the program. The first 5K is halfway through, at the end of week 4, and the second 5K is at the very end of the program, at the end of week 8. Julie and I are already registered for the Cowtown 5K on February 23rd, so that takes care of the week 4 5K race, but I hadn't found a race for the end of week 8--until now--the Bunny Boogie 5K Run/Walk.
The Bunny Boogie 5K Run/Walk looks like it might be the perfect wrap-up to this training program. It is a relatively flat out-and-back course, along the Trinity Trail in Fort Worth. It benefits Meals on Wheels, and registration is only $8. Best of all, it falls on the last weekend of my training program!
---
Mmm...delicious! I think that I am very, very close to perfecting my salsa. On the heels of last weekend's success, and with the Tequila and Salsa Party less than two weeks away, I thought it was time to give it another go.
Using last week's salsa (mine, not the Ersatz Papalote) as the basis, I put my roasted tomatoes in a pot on the stove, added chipotle peppers, salt, and some water, brought the whole thing to a boil, and then simmered for around 20 minutes. While the tomatoes and chipotle peppers were simmering away, I minced up some shallot, and chopped up some cilantro. (I also roasted some garlic earlier in the evening.) After about 20 minutes of simmering, I added equal parts red wine vinegar (less than last weekend) and white vinegar to the tomato mixture, and simmered another minute. I then poured the tomatoes and peppers into the blender, added the cilantro, shallots, and roasted garlic, and chopped until the salsa was a nice smooth consistency.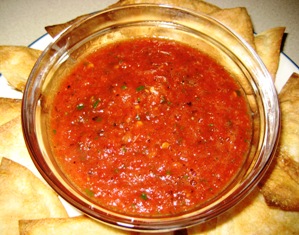 Check out the final result in the picture, shown along with some homemade tortilla chips. The salsa might just be the best I've ever made--I can't wait to try it tomorrow!
---
Now that I've finished Hal Higdon's 10K Training Novice Training Program, it's time to look/start my next program. I am leaning towards using another Hal Higdon program--5-K Training: Intermediate.
(I'll post soon on the finish to the 10K program).
---
My Dad's birthday was today, and I was asked to make some salsa and guacamole to go along with fajitas. Figuring that this would serve as good practice for the 2nd Annual Tequila and Salsa Party, and I never pass up the opportunity to make something tasty to share with family, I agreed. My guacamole recipe is pretty much set, with a slight variation from time to time, so the next step was figuring out exactly what sort of salsa I wanted to make.
Continue reading Making Some Salsa...
---
Today's 3 mile run was my first time out with my new Garmin Forerunner 305. This was actually a little hard of a run than I would've liked. Whatever that new gear was that I found a couple of weeks ago has left me. My legs felt very heavy. Perhaps they're tired from Sunday's run? Perhaps they're still tired from an hour of basketball Saturday afternoon? Either way, this was slower than what I was going for, but good lord, look at all of the data I have now!
As I mentioned, this was a 3 mile run. I set the Forerunner to auto-lap every mile, but I didn't stop it when I hit 3 miles, so there's an extra .63 mile of data from my cool-down. The GPS-based map is very close to the map I created on MapMyRun.com. I was pleasantly surprised.
THIS THING ROCKS! Of course, so does the functionality at Motion Based.
---
A new training tool should be waiting for me when I get home today--a Garmin Forerunner 305
. Even though this is supposed to be my reward when I reach my goal weight of 185, I simply couldn't resist Amazon's sale price of $185 (hmm...185 lb goal weight, $185 sale price...coincidence?), plus a free 1 month trial of Amazon Prime, which meant free 2-day shipping or overnight shipping for only $3.99. Besides, this should help me reach me goal, right? At any rate, I've got a 3 mile run scheduled for today, so you know I'll be charging this thing up as soon as I get home. I guess now I need to pick something else out as my ultimate goal reward--perhaps a Forerunner 405... ;-)
I'll post more on the Garmin Forerunner 305
later.
---
It's official, Julie and I have signed up for the Cowtown 5K on February 23rd, which is run as part of the Cowtown Marathon. I briefly considered signing up for the Cowtown 10K, but since I just ran my first timed 5K back in December, I figured that it would be best to get a couple more 5K races under my belt, before moving up to a 10K.
---
Whew! I finished up week 6 of Hal Higdon's Novice 10K Training program today with my long run--a 5 miler. The weather was good, the wind was pretty calm, and though my legs were a little sore after an hour of basketball yesterday, I felt good. Keeping in mind the "long and slow" mantra, I paid no attention to my watch, other than to start it at the beginning and stop it at the end. Of course I hit the lap button as I completed each mile, but I never looked at it. In the end, I completed the 5 mile run in a respectable 58:48. Not bad for a long slow run that was full of hills.
I ran the first 1.15 miles with Julie, as she was on her long run (3 miles), wrapping up week 1 of Hal Higdon's Novice 10K Training Program, before I headed off into uncharted water. The rest of mile 2 was up a nice sized hill that I'd done a number of times, though the last quarter mile or so was beyond my typical turn around point. Mile 3 was pretty much all uphill (sometimes steep hills). Just beyond the 3 mile mark, I tried a little chocolate GU energy gel for the first time on a run. I felt really strong through mile 4, perhaps because of the boost from the GU, or perhaps it was because I finally started heading back downhill. At any rate, mile 4 turned out to be the quickest of the day. Mile 5 featured one last good hill, which I took nice and slow.
At the end of the run I felt really good, and while I was tired, I felt like I could've continued on for a while longer. In addition to carrying the GU, I also carried some money with me for the first time, and as luck would've have it, mile 5 wrapped up right across the street from a 7-11, where I stopped to pick up a Sunday paper, and some Gatorade. Julie and Sadie (our dog) met me out on the road and we took a nice 1 mile walk back to the house. All in all, I feel really good about this run, especially when compared to last week's 4.5 mile run. My confidence was shaken by how hard that run was, and by how bad I felt afterward. What a difference a week makes!
Here are my mile splits:
11:47
11:32
13:00
10:55
11:31
Here's a link to the route I ran (first 5 miles). Make sure you click the link (or check the checkbox) to show the elevation!
Go #$&%@! Cowboys!
---
One of the reasons I moved to a new host is because they were already offering ASP.NET 3.5 on their servers (and the price was right). The next logical step, after moving this site to the new host, seemed to be moving this site to ASP.NET 3.5. In order to try some new things out with LINQ to XML, and VB 9, that has now happened.
The first order of business was to try using LINQ to XML to pull in an RSS or Atom feed of my bookmarks at ma.gnolia, and utilize that data in the Links section of this site. It was ridiculously easy. A couple of lines of code to get a list of all the distinct tags, and a few more lines to grab the title and URL of each bookmark, based on the tag selected. Right now, I am just displaying both in simple lists (using the new ListView control, also very nice), but I will be spiffing it up and adding some additional functionality soon.
Now, since my day job involves working with XML most all of the time, I am very tempted to bring some of my existing code into the world of LINQ to XML.
For more information on LINQ, check out Scott Guthrie's LINQ related posts.
Additional LINQ Links:
---
According to Jenny Hadfield and John Bingham, in their book Running for Mortals: A Commonsense Plan for Changing Your Life With Running
, weight loss is easy -- "Eat less. Move more." And of course, for most of us, they're right.
You already know that over the last couple of months I've really ramped up the consistency, quality, and effort of my workouts, but what I haven't talked too much about is how much better I've been eating. In fact, it's not just me, it's been a family effort. And believe it or not, we're not starving ourselves, and we even indulge in our favorite foods from time to time. (Moderation, not restriction is important!)
The key for us has been reducing our portions, not going back for seconds (usually), and watching out for the mindless snacking that can occur. It's also important to recognize your eating triggers. Additionally, we're focused on getting whole grains and lots of fruits and veggies in our diet. So far it's working. Since mid-November, I am down nearly 20 lbs. (Over the holidays, too!)
If you'd like more information on eating healthier, especially if you're also active, check out this list of nutrition articles on the Running Network.
One last thing--don't forget to drink plenty of water!
---
Over the last couple of months, I've compiled a fair amount of useful links pertaining to Running specifically, and fitness in general. In case they might be of use to anyone else, here are a few of them:
Route Mapping Sites

MapMyRun - A  website that provides mapping tool based on Google Maps. The website also has a robust training log and a community forum.
RunningAHEAD - Similar to MapMyRun, RunningAHEAD features a running log and mapping tools, as well as a vibrant running community.

Running Articles

Runner's World - Companion site for the Runner's World magazine. Tons of useful articles, blogs, training programs, and training calculators.
Running Times Magazine - Resource for training plans, racing advice, road race rankings, guides to shoes, marathons, camps, etc.

Training Programs

Couch-to-5K - This is a pretty good beginner's program, and is the program I got started with.
Hal Higdon - The home of my current program, Hal Higdon's Novice 10K Training Program, as well as much, much more.
Jeff Galloway - Former U.S. Olympian, author of top selling running books, and designed of the run-walk marathon training program.
---
Okay, this run was HARD...as hard as I've had so far. I know this is my long run, which means slow, but this was ridiculous...the wind was terrible. Ok, perhaps in light of the wind, I should've gone even slower. Here are my splits:
Mile 1: 10:22
Mile 2: 11:02
Mile 3: 12:03
Mile 4: 12:13
Mile 4.5: 6:20
Total: 52:02
I actually felt good going out on the first mile, like I was turning a nice slow time. I was surprised to see 10:20. My target pace was 11 min/mile, so I slowed down on mile 2 and was almost right on pace, at 11:02. Heading into mile 3, I felt good, then I felt the wind. And then I felt the wind while running uphill. I slowed way down to 12:03. Mile 4 was some more running into the wind, and uphill, and then head first into the wind (gusting to 28 mph), which was worst of all, even if it was relatively flat. I was actually surprised to see mile 4 come in at 12:13. At the beginning of the final half mile, I actually got a little pep in my step, though I tried not to speed up any, and by the time I was a quarter of a mile from the end, I was really struggling. Not surprising, the final half mile came in at 6:20. I am wiped out!
Temp at start of run was 70, wind S 18 G 26. A the end of the run, it was 71 degrees, and the wind was S 14 G 28. No wonder!
---
Just wanted to let you know that I am going to add Comments back in (as well as the Contact page), I just haven't gotten around to it just yet, as I'm still moving stuff over to the new web host. The good news is that everything is going very well, there's just a lot to move.
---
Just a quick note to let everyone know that I am changing hosts. This site has already been moved, but some of my other sites have not (http://metaapps.com and http:/daneman.com) been moved.
Also, my new host supports version 3.5 of the .NET Framework as well as SQL Server 2005, so you can expect to see some new things popping up, or perhaps not, as they might mostly be behind the scenes. At any rate, if there's any problems with the site, I'd say hit the Contact page and let me know, but of course, I haven't added a Contact page into this latest site template (or comments, for that matter!). I guess I've got some work to do...
---
Recently, I was perusing my workout log at MapMyRun.com, and decided to talk a little bit about the month of December, and what I was able to accomplish in what was my first full month of tracking my workouts and weight, as well as the first 4 weeks of Hal Higdon's Novice 10K Training Program.
On December 1st, I ran the Jingle Bell Run. After completing the Couch-to-5K earlier that week, my goal was to not walk. My stretch goal was to finish in under 30 minutes. I met the first goal, but not the second, as my time was officially 31:30 (my watch clocked it in 30:59). I weighed in at 224 that morning. The next day, I went for an easy 5K recovery run/walk. On Monday, December 3, I began Hal Higdon's Novice 10K Training Program. I weighed 223. My first run on the HH10K:Novice program was 2.5 miles, covered in 27:30, for an 11:00 min./mile pace, and a speed of 5.45 mph. The following week, I covered the 2.5 miles in 26:09, but I think that was on the treadmill, so we'll throw it out. In week 3, I covered the 2.5 miles in 24:40--outside--for a 9:52 pace per mile, and a speed of 6.08 mph. Also, this was my first out door run where I averaged less than 10 minutes per mile. Just two days later, I finished my 2 mile run in 19:29, with a 9:43 pace and 6.16 mph. Needless to say, I was very excited with my improvements. In week 4, on Christmas day, my 2.5 mile run moved up to a 3 mile run, but I turned in my best run yet: 3 miles in 28:46, for a 9:34 pace and a speed of 6.26 mph (on a very flat route, but still!). Most recently, I did my 3 mile run in 28:45, which is basically the same pace and speed as the previous week's 3 mile run, except that this was back home, on a much hillier route. But perhaps the thing I am most thrilled with is the progress of my long runs. From week one - week four, my pace has gone from 11:30 per mile to 11:01 per mile, while the distance has increased from 3 miles to 4 miles, and until now, I'd never run non-stop for more than 3.11 miles. Oh, as of this morning, my weight was 213!
As you can see, I've been making some pretty good progress with my fitness. I am nearing the end of Week 5 of the HH10K:Novice program, with 3 more weeks to go. My running is improving, conditioning is much improved, and I am feeling pretty damn good about all of this! I think it is fair to say that I am a runner.
---
If you haven't seen this video, check it out now. It's a new commercial from Nike.
Given that this is the season of resolutions, and everyone is crowding into the gym, trying to live up to their resolutions, this commercial offers up a little something to remember when the excited, new phase of exercising wears off in another few weeks.
Also, here's a brief article about the commercial, and the athlete in it: No Excuses, Nothing But Net.
---